Almost every girl dreams of having a fairytale wedding on the fateful day they tie the knot with the love of their life. Stylist to the stars Kim Yap opted for exactly this and more, setting up the most grandiose of weddings as she said I do to now-husband Jarvis Sy.
While her styling aesthetic is already constantly evident in the most notable outfits of Kathryn Bernardo, Kris Aquino, and Erich Gonzales, she was able to translate that same elegance into her own wedding day as she—with the help of event stylist Gideon Hermosa—decked Santuario de San José Parish and the Grand Ballroom of Manila Marriott Hotel in grand arrangements ranging from a lavish hall set-up and a monumental centerstage to baronial floral chandeliers and even a line of fountain fireworks that welcomed her and Jarvis as a newly-minted husband and wife.
This grand wedding also came with a star-studded guest list with the likes of Kathryn Bernardo and Erich Gonzales as her bridesmaids, Scarlet Snow Belo as one of the flower girls, and Kris Aquino as one of the principal sponsors. Moira dela Torre, Jason Dy, Southborder, and the Philharmonic Orchestra serenaded the guests with their impeccable music as well, while Robi Domingo served as the night's host. Of course, ever the supportive sister, Boop Yap was also a scene-stealer as Kim's maid of honor. 
Find out more about the monumental wedding of the season below as Preview talks to the bride herself about her preparations for the big day and more!
Congratulations on your wedding! How are you two settling in so far?
"To be candid, everything is still surreal. To say that we had an amazing wedding day would be an understatement. Behind the grandeur of the event, the décors that everybody is raving about, the food, and everything else, it is the feeling (and the reality) that we are finally married is the best feeling in the world."
Tell us about your dream wedding. Was it like the wedding you had down to a T, or did some details change along the way?
"As proponents of newest trends and purveyors of uniqueness, what we really wanted was intentional details that were novel and exceptional, yet classy and elegant. We wanted to veer away from the norms but we still wanted the core vision to be very timeless. So that when we look at our wedding photos 10 years from now, the wedding will not look archaic. We will still love our look, the gown, the suit, and the décors, and we'll not have any regrets or cringe-worthy moments! We had the wedding we dreamed of without being blinded by ephemeral fads."
How were your preparations leading up to the big day? Would you say you were a bridezilla?
"Definitely not. I think the key to having a splendid wedding and a beautiful disposition is to really let go and trust your wedding suppliers. They know best. We hired them to do the job and so we let them do theirs. We did not micromanage, but we did our part. We listened to their ideas and respected their craft.
Moreover, there's really no such thing as a perfect wedding just as there is really no perfect day for that matter. Perhaps that's one of the expectations we've had from the very start, hence we embraced all the changes and everything that happened that day. Most of all, I had Boop, the best sister one could ever have, who helped me with all the wedding preparations. She made sure to cover everything we couldn't and so much more."
The styling was breathtaking! Did you have an overall theme?
"The overall theme had this tropical vibe infused with a secret garden feel. We also incorporated minimal Oriental details, a homage to our roots. Since we knew we were going to have a big wedding (with 1,200 guests), we envisioned a seemingly intimate setting wherein guests would not be drowned by the vastness of the ballroom but would feast on the beauty of the elements of the wedding (from ceremony to reception to after party)."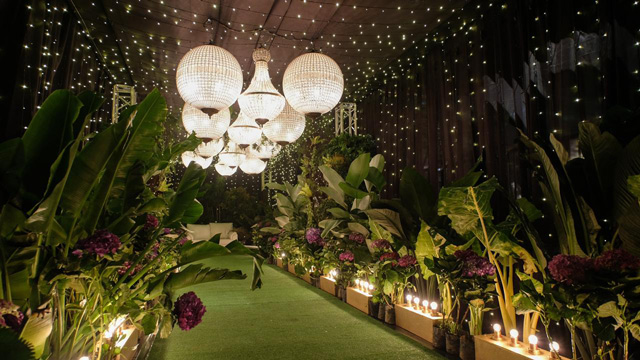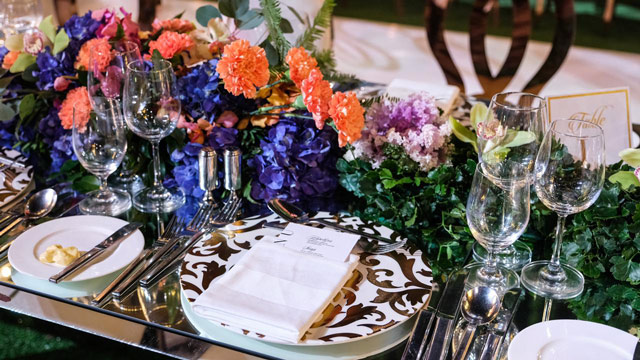 You had quite a star-studded guest list, too! Were all your celebrity clients present at the big event?
"We are extremely grateful for all the people who graced the occasion—celebrities or non-celebrities. Kathryn, for one, surely exerted efforts to be at the ceremony given that Daniel [Padilla] would have his big concert the same day; Ninang Kris Aquino, despite some health and personal concerns, made sure to attend the ceremony and be a witness to our marriage; Erich stayed from start to finish; and Kaye [Abad] together with her husband Paul Jake [Castillo], even flew all the way from Cebu just to be there at our wedding. The same with all the other guests who really blocked their schedules and made sure to celebrate with us on our special day."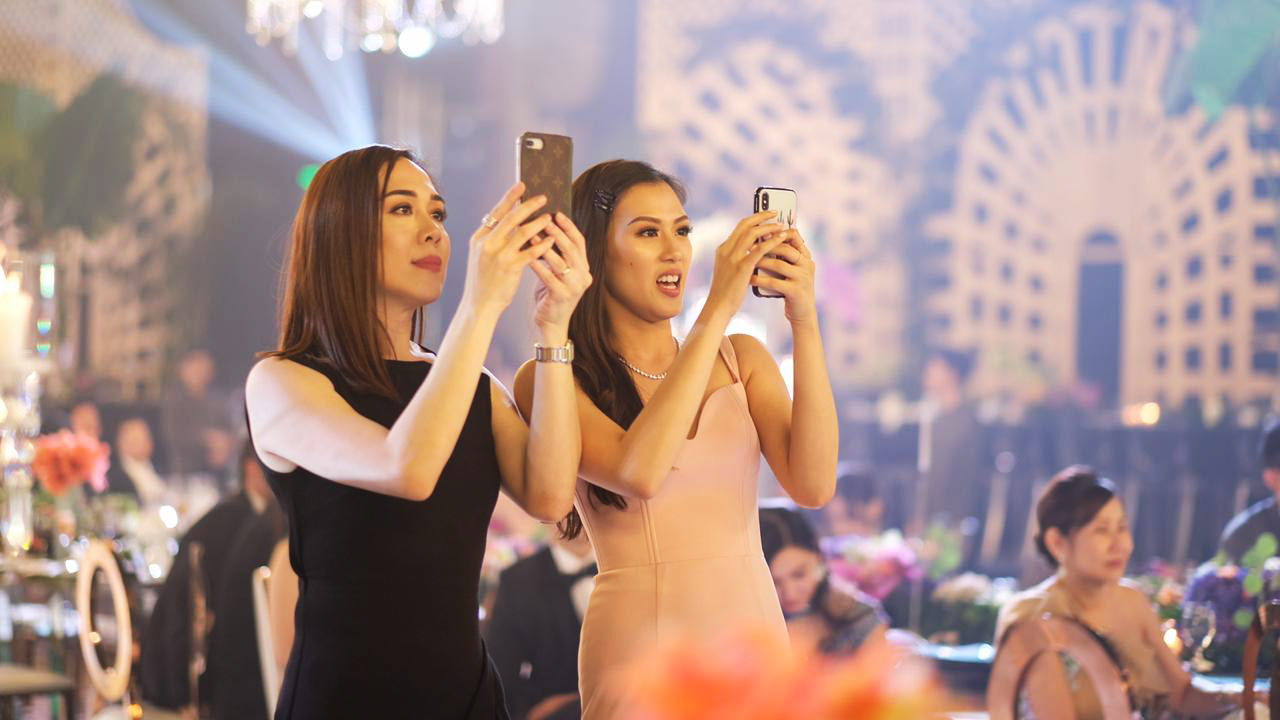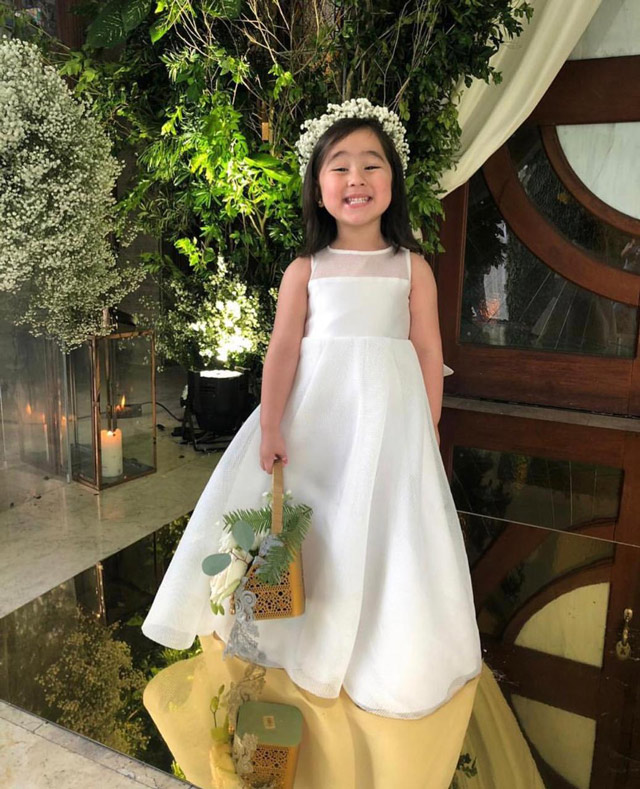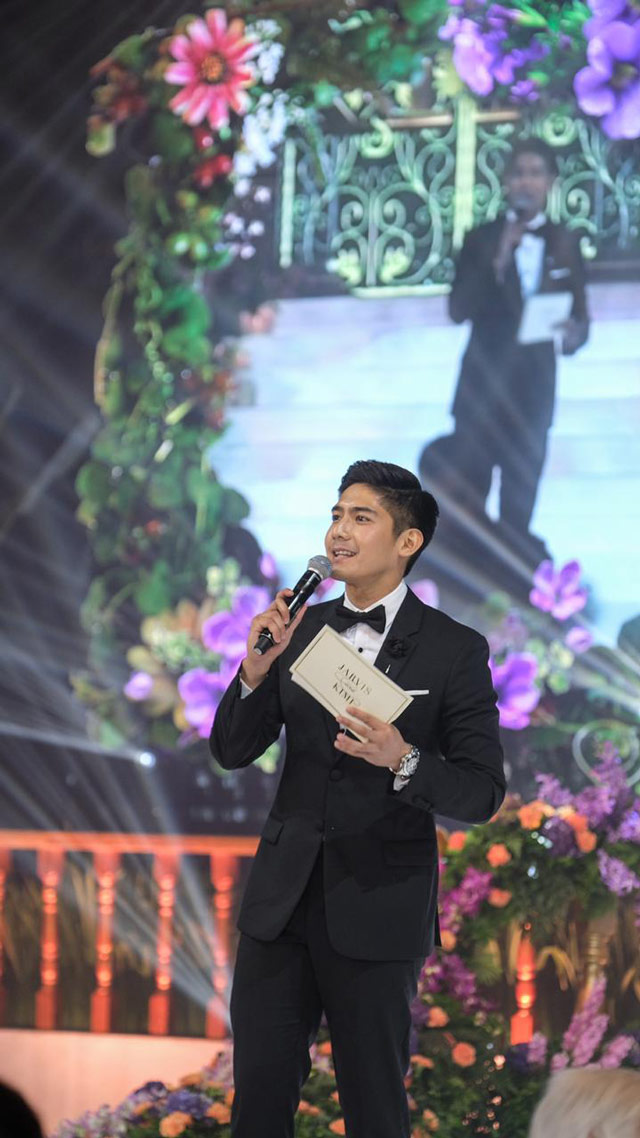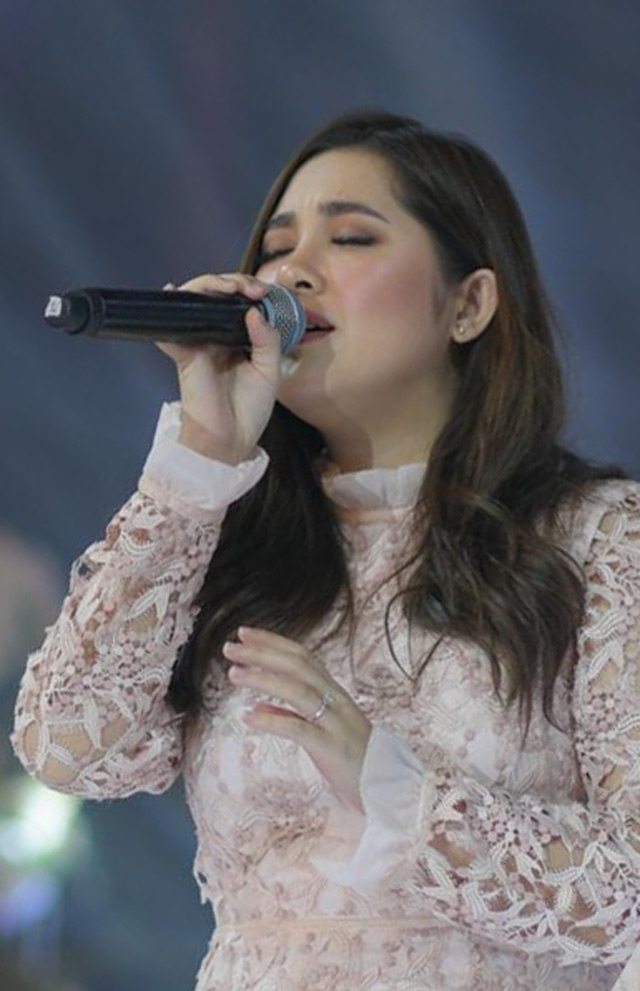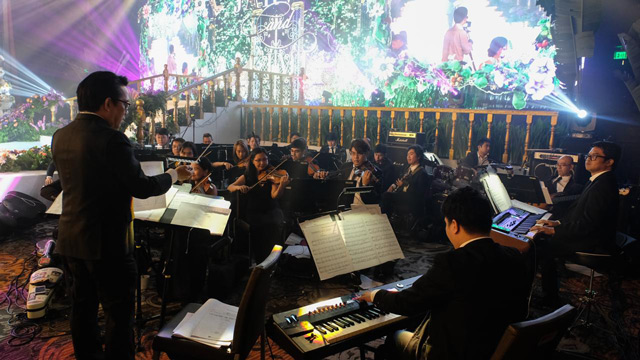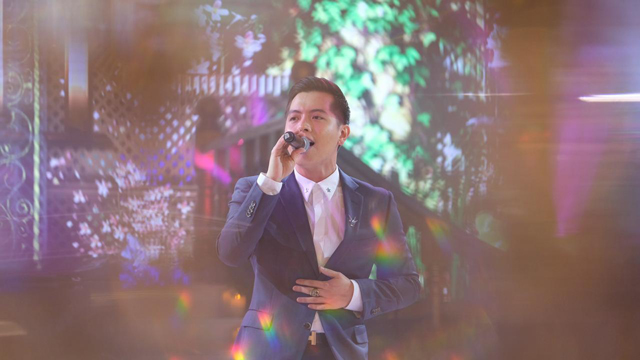 You looked absolutely gorgeous! Can you tell us who did your hair and makeup? What look were you going for?
"For my bridal look, I opted for a fresh and classic look. I wanted to be that glowing bride with that regal stance. Keyword: TIMELESS. And I guess I achieved my dream bridal look. Big thanks to Albert Kurniawan, who did my makeup; and Chris Rodil, who did my hair."
Of course, you were stunning in your gown as well! Can you tell us more about it? How was it like collaborating with Michael Cinco on your wedding dress?
"There was no other bridal gown designer I had in mind than Michael Cinco. I knew from the time Boop wore her majestic wedding down on her wedding day that when my time came to walk down that aisle, I would also be wearing a Michael Cinco couture gown. It was a great pleasure working with a world-renowned fashion designer who made my vision possible."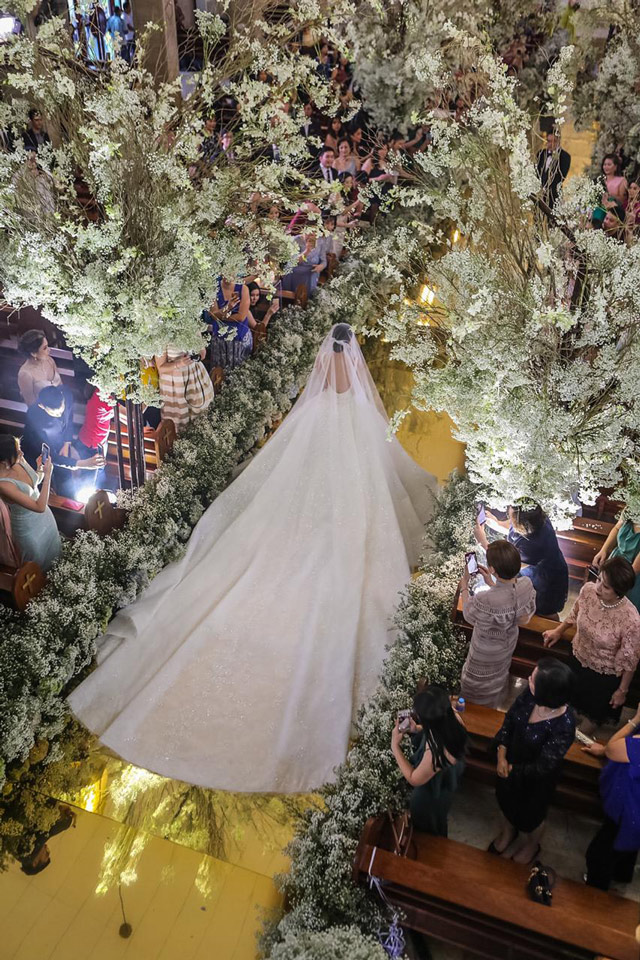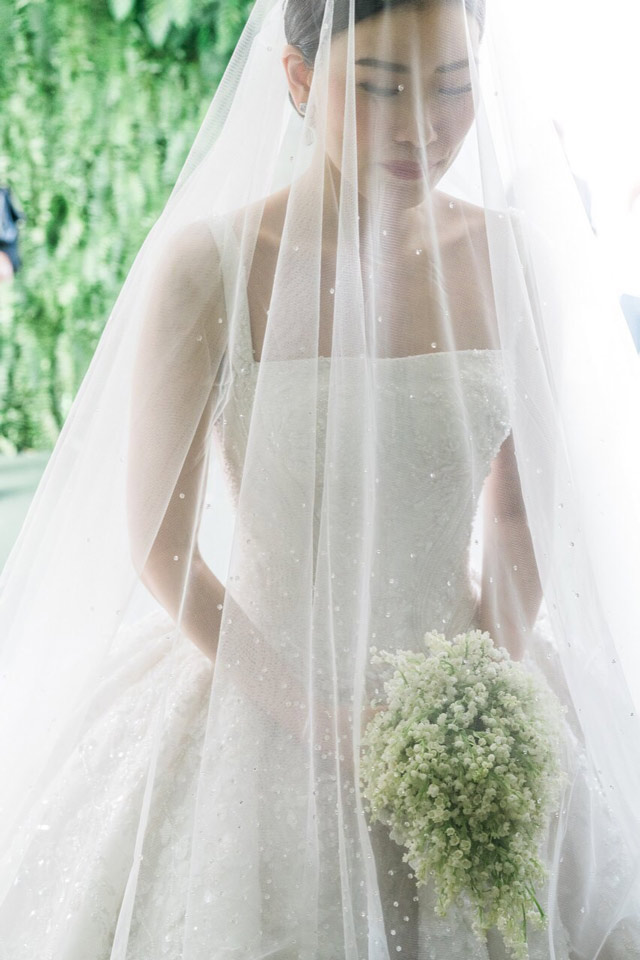 How about your husband's look? Did you have a say on it?
"Your guess is correct—YES! For Jarvis, we opted for the sleek, dapper, classy look. To match my timeless look, we went for a no-brainer Tom Ford white tuxedo. We also had a twinning moment at the reception wherein I changed into this immaculate Tom Ford dress for a relaxed classy look."
We saw your entourage wore the same color as you when Jarvis proposed. Is there a story behind it?
"I really wanted intentional details to take centerstage. When Jarvis proposed to me in Amanpulo, that moment would be forever etched in my mind and heart. That moment was so enigmatic that I wanted to relive that state of happiness on my wedding. Hence, I decided to use citrine—the color of the dress I was wearing when he proposed—as the color of the female entourage's dresses. It also complements the greenery color palette of the reception."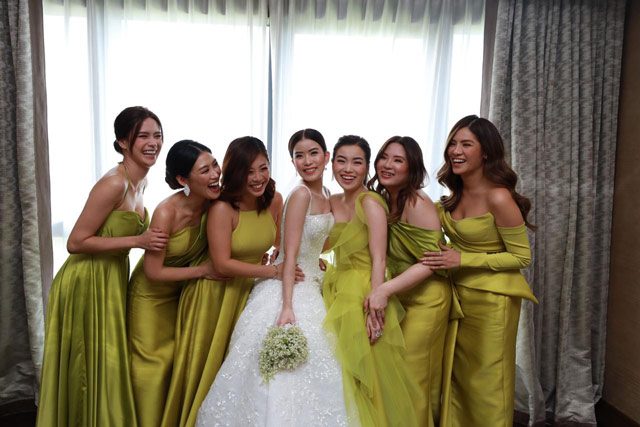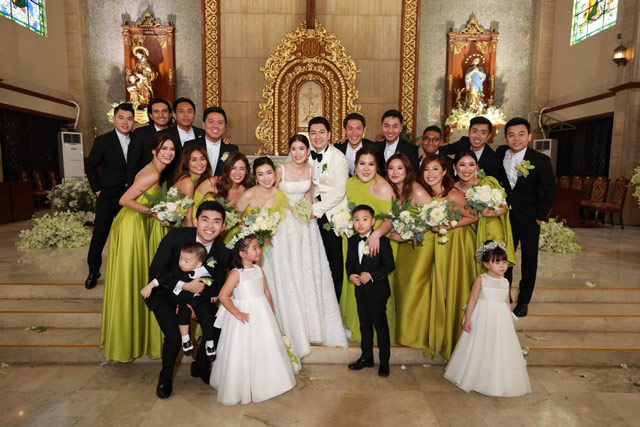 Which would you say was your favorite part during the wedding?
"It would be hard to choose just one favorite part of the wedding. I loved every part of it. From the moment I started to walk down that gold-mirrored aisle, and when I saw Jarvis waiting for me at the end of the aisle— every moment was so precious. The first dance was also one of my favorites. That moment when Jarvis was wrapping me around his arms while dancing in front of thousand people, it was as if we were the only people in the room— Jarvis and I. And I knew that I was no longer dreaming; it was real."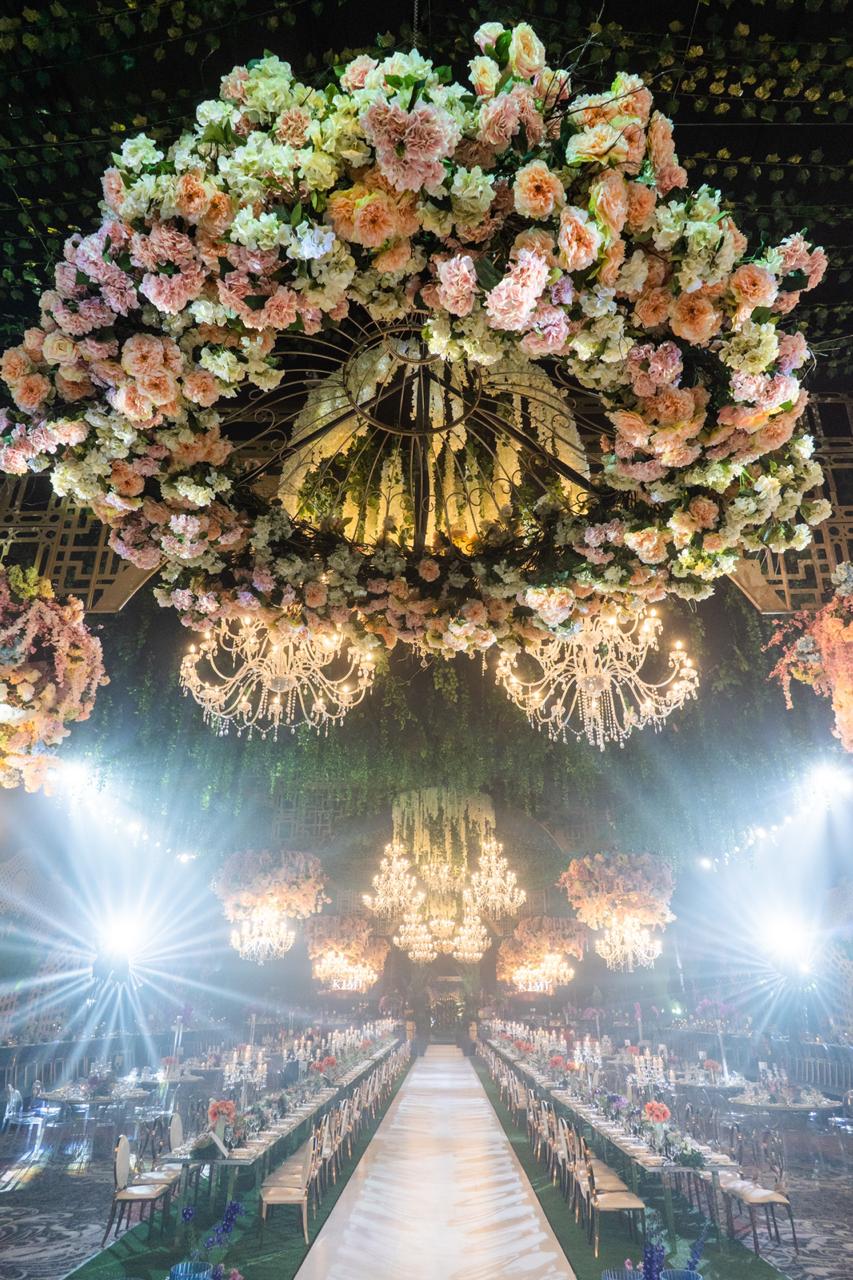 Last question! So where are you heading for honeymoon?
"We are actually leaving today for Africa. A new adventure, it is!"
Congratulations to the newlyweds!
This content was originally published here.