Better Call Saul actor admits he cut off own arm for roles
Actor Todd Lawson LaTourrette has admitted that 17 years ago, he cut off his own arm in order to "improve his career" so he could "pose as a war veteran," according to PageSix.com. He told casting directors he'd lost the arm while serving in the U.S. Army. However, he now wants to come clean.
Although he played Dave in the major motion picture The Men Who Stare at Goats starring George Clooney, and a character named Skell in a 2018 episode of the TV series Better Call Saul, most of his roles have been nameless — such as "robber" in the movie Beer for My Horses, "Rockabilly Bartender" in the TV series Longmire and "Gas Station Drifter" in the TV series Manhattan.
LaTourrette began acting onstage at the University of New Mexico's Center for the Arts, but he struggled with mental illness. He told New Mexico TV station KOB4 that he's bipolar, and during a time when he was off his medication, he said, "I severed my own hand with a skilsaw" during a "psychotic episode." Not only did he cut off and cauterize his own arm, years later he created a prosethic arm to try to "look normal." He says the film industry saw him as being "different. They liked that."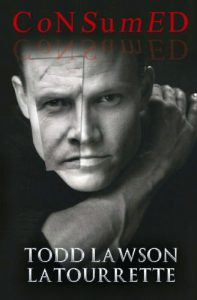 He's now apologizing for telling casting directors he was a war veteran. "They trusted me that I was exactly who I said I was. I was a war veteran. I was hired because I lied." When asked if he's now looking for the limelight by coming clean, he replied, "I was dishonorable. I'm killing my career by doing this. If anybody wants to think that this was for personal edification, that's not the case. I'm ousting myself from the New Mexican film industry and gladly so, just to say what I've said."
He says he's not expecting forgiveness, but hopes his story could help someone else struggling with mental illness, adding, "The power is in your hands to take that medication in the morning or the night, so that this discourse of my life doesn't need to necessarily be yours. Because it happens quick."
Although he didn't mention it in the interview, Latourrette released a memoir in 2015 titled Consumed, which was published by Vanguard Press. In it, he details his struggles with mental illness, and discusses his stint in the U.S. Army. ~Alexandra Heilbron
MightyMad • November 1, 2018 @ 10:20 AM

… This gotta be the craziest story I've heard today.
Can you imagine, cutting part of yourself for a job?
Just pure insanity.

Bubbalouie • November 1, 2018 @ 10:32 AM

He could get a role in Vikings. Where Leif Erickson was running low on Fisk looking for a trade route to China and resorted to eating one arm while rowing with the other. Now that's a real Viking! 🤩🚣‍♀️

Derek Beaupre • November 1, 2018 @ 11:06 AM

One of the stupidest things I have ever heard. Maybe he should have kept his arm and looked for a different job, if he couldn't get a job whole ???

Don • November 1, 2018 @ 11:35 AM

Wow. That's incredible. An insult to all who served in the armed forces and lost limbs. Desperation and mental illness does strange thngs to a person. In the end hes done the right thing and is getting help.

Terry • November 1, 2018 @ 11:38 AM

Melissa • November 1, 2018 @ 11:45 AM

Although what he did wasn't nice (to say he was a Vet), you guys have to remind he was also in psychotic episode when he cut his arm. It shines a light on what mental illness can do to somebody, left untreated. Not an excuse per sei, but it has a cause.

Bubbalouie • November 1, 2018 @ 11:48 AM

With words like crazy,stupid and insult you are victimizing an already tormented soul. More is needed from Gov. for mental health. Never forget to take your meds. Unless they are opioids then get off them ASAP. Deep breathing, especially square breathing is incredible for pain. Makes me think of so many actors being bi-polar. For them it must be a place to release and distract much as the bottle for others.

camille • November 1, 2018 @ 12:12 PM

he DID NOT say he cut his arm off to get more roles. he cut it off during a psychotic episode of bipolar when he was off his meds. he THEN decided to pose as a vet in order to get movie roles. please report accurately. this man was ill, not an asshole

david • November 1, 2018 @ 12:35 PM

I once met a Brickmason in Toronto, Canada, who had intentionally injured himself in someway in order to collect Workman's Compensation benefits during the winter. At that point he had crushed his ankle, messed up his knee, a foot, an arm & his left hand.
No concept of true reality. Bet he is suffering now 30 yrs later!

Miguel • November 1, 2018 @ 1:08 PM

also known as idiot, stupid, moron, and so many others

Bubbalouie • November 1, 2018 @ 1:47 PM

Had a friend who damaged his leg to get time away from work to do a modeling gig. Hmmm. He thought it was worth it.
Train your body — train your mind. ……
Even then life can throw a lot at you.
And some of us start out with a lesser hand to play.
This is sad, but don't judge. Be shocked and then help. Even a person with a racist tirade in a subway or bus deserves a human chance at empathy. You don't know what they are going through.

Maria • November 1, 2018 @ 1:56 PM

Shia LaBeouf cut his own face and had a tooth pulled for a role. I think there are more actors who've done similar things…

Sandie • November 1, 2018 @ 4:20 PM

I feel for him over the psychotic episode…that must have been a terrifying experience, especially when he came out of it and had cut off his arm. The part where he lied about being a war veteran to get roles? yeah, I don't feel sorry for him for that…the mental illness makes him a victim, but the lie makes him a P.O.S.

Wendy • November 1, 2018 @ 4:28 PM

I think the lie makes him a regular human being trying to make the best of things. You have to do what you can to get roles, what's he gonna say when they ask what happened: I cut off my own arm during a psychotic episode? How many people are going to say, okay, we admire that, we want a person who does that kind of thing on the set of our film/TV show?

James • November 1, 2018 @ 6:33 PM

But the question nobody is asking:

WHAT DID HE DO WITH THE ARM??

Bubbalouie • November 1, 2018 @ 7:18 PM
Trending Articles
Current Poll
 Loading …
You Might Also Like

This content was originally published here.